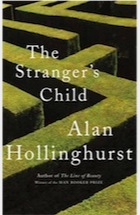 The Stranger's Child by Alan Hollinghurst (Picador 2011)
The Stranger's Child is a book about the way a literary reputation changes over the years as social mores about behaviour and sexual proclivity change and as biographers and critics become more cut-throat in getting to the juiciest of secrets that will bolster their own literary reputation.
The totemic event of the book is the visit of the upper-class gentleman Cecil Valance, already a budding poetic talent, to the home of his Cambridge schoolmate George Sawle at their family pile Two Acres. George and Cecil's rather close attentions are rather thwarted that weekend by the close attentions of George's younger sister Daphne who is never far away, whether during skinny-dipping antics by the lake or frolicking in the hammock.
Flash forward a few years and Cecil has died, perished in the Great War but his reputation now blossoming as those who were present at Two Acres during Cecil's visit are assembled as a family friend, the rather tame and friendly Sebastian Stokes, gathers the sources for his unchallenging and safe biography. But as the years go by we see different volumes of his life and his letters, what truly happened between Cecil, George and Daphne becomes more distant, the more it is analysed.
This is a truly beautiful book. Cecil Valance is a Rupert Brooke/Siegfried Sassoon type Edwardian poet, perhaps not a genius of style but the creator of memorable lines who finds a place at the heart of a Bloomsbury Group style of Britishness: repressed homosexuality and upper-class excess. The book is set in five sections and in each as they get further from the original event we are not just treated to different social settings, mores and nuances but each adds to the complexity of the whole.
I cannot imagine how much planning this novel took but Hollinghurst is a master of prose and creativity at the height of his powers. The Booker Prize can only now be between this and Barnes's 'The Sense of an Ending' and I'm glad it's not my decision.
5/5